Geo-Trips :: Not quite Ten Tors on Dartmoor
Dartmoor
A walk from Near Widecombe, Tue, 13 May 2014 by David Smith
A seven mile walk which visited ten named tops on Dartmoor, but not all were named as tors. The walk was timed for the Tuesday after the Ten Tors expedition - why should young people have all the fun? - but there was no need for overnight camping, and the walk was rather shorter than the 35 or 45 or 55 miles of the weekend expedition
Click the blue circles to see a photograph taken from that spot and read further information about the location. The blue lines indicate the direction of view. There is also a slideshow of this trip. ( )
↓ Scroll down here ↓

Path to Top Tor from the north
A well-used path from a car-park on the road to Widecombe from Harefoot Cross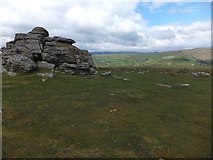 Pil Tor with the tower of Widecombe church
The church tower is just visible beyond the rocks

Hollow Tor
A small outcrop of rock on the slopes of Top Tor which has been named as one of... more

Tunhill Rocks
Tunhill Rocks overlooks the farmland which reaches into the moor at Tunhill and Blackslade

A hut circle at Tunhill Rocks
Marked as a "Homestead" on the OS map, this is one of the numerous hut... more

Part of a field system on Blackslade Down
Stones arranged to form the boundary of a prehistoric field system

Hollow way between prehistoric fields
Part of the field system on Blackslade Down

Track across Blackslade Down
This long-established track crosses from near Widecombe to the road to Ashburton... more

The cairn on Wittaburrow
Looking south across the top of Wittaburrow

On Wittaburrow
One of the tops of Dartmoor which is not included in the list of tors

Walls of a modern enclosure on Blackslade Down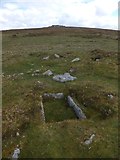 A burial cist on Blackslade Down
Pil Tor is on the skyline

Site of a small moorland fire on Blackslade Down
Beside the track across the Down, with Pil Tor on the skyline

Standing stone on Blackslade Down
One of the standing stones on the Down, close to the cist [[[3976809]]] in the... more

A modern arrangement of stones on Dartmoor
Not a prehistoric pattern - just some modern people who enjoyed themselves and... more

Boundary stone near Blackslade Ford
On one side is the letter A for Ashburton; the other has B for Buckland

Boundary stone near Dry Bridge
The OS map (1:25000) marks the area with the text BSs (Boundary Stones); how often... more

Path up the south side of Rippon Tor

Path up Rippon Tor from the south

Nut Crackers on Rippon Tor
Formerly there was a "Logan" stone (rocking) here, but it has... more

The trig point pillar on Rippon Tor

Cairn and trig pillar on Rippon Tor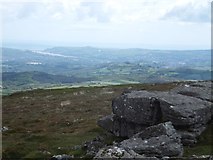 East from Rippon Tor
From here you can see the estuary of the River Teign

Towards Saddle Tor and Haytor Rocks from Rippon Tor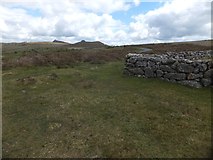 At Hemsworthy Gate, looking east
On the skyline are Haytor Rocks and Saddle Tor

Foales Arrishes
This area of enclosure takes its name from an innkeeper who grazed these fields;... more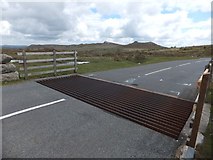 The cattle grid at Hemsworthy Gate
Haytor Rocks and Saddle Tor are on the skyline

Hemsworthy Gate signpost and Pil Tor
To the right of the sign, below the top of the tor, are the remains of the field... more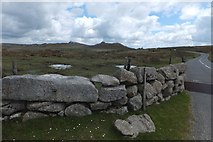 One of the gateposts of Hemsworthy Gate
There was once a gate at this road junction; the horizontal stone in the wall... more

Boundary stone at Hemsworthy Gate
Showing A for Ashburton and B for Buckland

A prehistoric burial chamber at Hemsworthy Gate

Moorland and woodland near Harefoot Cross
Beyond the woodland is the valley of the Becka Brook

Track and stream at Bonehill Rocks

Bell Tor
A small tor on the southern flank of Chinkwell Tor [[SX7278]]

Bonehill Rocks from the slope of Bell Tor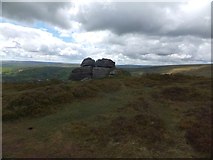 Granite outcrop on Chinkwell Tor

Cairn on Chinkwell Tor
Chinkwell Tor has an elongated top; this cairn is at the northern end

Honeybag Tor from Chinkwell Tor
The path between the two tors drops to a saddle, crossed by a path at right angles.

Looking east from Honeybag Tor
Haytor Rocks are on the skyline

Chinkwell Tor from Honeybag Tor

Woodland near Pitton
Pitton is hidden in the valley, on the west of Honeybag and Chinkwell Tors. This... more

Hut circle on slope of Chinkwell Tor
This site is beside the carriage drive from Pitton to Bonehill Rocks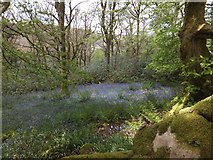 Bluebells in woodland on Chinkwell Tor
A patch of woodland by the carriage drive with bluebells and moss-covered trees

Closing an old gateway
The left-hand gatepost in the stone wall is still visible, but the gateway has... more

The carriage drive on Chinkwell Tor
A long-established track on the western slope of the tor

The carriage drive on Chinkwell Tor (2)
Here the drive passes a triangular area of moorland that is just outside the... more

Carriage drive below Bell Tor
The carriage drive is an established track around the western slopes of Bell Tor,... more
All images © David Smith and available under a Creative Commons licence

.