New Year's Day 2016
---
The collection of photos taken on New Year's Day, one from each contributor, has been run in the Themed Topic Forum for a number of years.
Some people take active part and add their photos to the forum thread, as well as attaching the shared description to their image. Many others take the photo and submit it to the site, but don't post to the forum. Others go out for lengthy walks with their cameras and take lots of photos.
I thought I'd bring all these groups together - a total of
91 photographers
. I've arranged the images in more or less (map) north to south order and added a brief description where there was none.
1 Scotland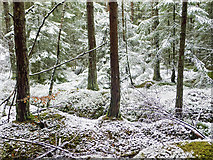 The start of a 90 minute walk through our favourite paths in Bellton Wood. Local noon - 1215 for the Black Isle.
by Julian Paren
The military road was built so that soldiers could move quickly during the time of troubles in the 1700's. It is only about a metre wide but was so well laid that it is still a good walkers' path and the modern road runs very close to it between Inversnaid and Trossachs Pier.
by Malcolm Neal
Looking along Portobello Beach from the Joppa end. Some out for a dip, even though the Summer temperatures of December 2015 had left for more traditional New Year's Day weather. (I was out for a run on the bike and am still thawing out as I type this at home).
The Portobello coastal rowing club are out as well (background).
by Richard Webb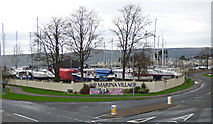 The main entrance to the housing development and marina off the A78 Main Road at Inverkip.
by Thomas Nugent
A wintry look to New Year's Day on the drove road following the ridge over Kailzie Hill.
by Jim Barton
It was the ideal day for a walk up to Brotherstone Hill in calm frosty conditions, but also a grey sky with the sun struggling to break through. According to folklore, two brothers went overseas in search of fame and fortune, and on their return each was unaware that they had followed different faiths, one being protestant and the other catholic. An argument over their respective religions resulted in the two brothers duelling, whereby they both died of sword wounds. The legend says that local people erected the two standing stones to mark where the brothers fell and were buried.
by Walter Baxter
~ Ireland
The local suburbs were absolutely dead today but the airlines were offering quite a reasonable service (including KLM from/to Amsterdam). The flybe Dash 8 (G-PRPA)
Link

had arrived from Leeds/Bradford the previous afternoon. Photograph taken at 13.45.
by Albert Bridge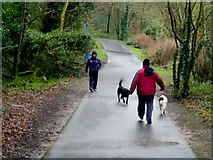 The approaching dog had its tail wagging which was a good sign
I've got the timing on the button too!
by Kenneth Allen
---
---
( Page
1
2
3
4
5
next >>
)