Geo-Trips :: A circuit around High Barnet from High Barnet station
A circuit around High Barnet
A walk from High Barnet station, Mon, 21 Mar 2016 by Christopher Hilton
Click the blue circles to see a photograph taken from that spot and read further information about the location. The blue lines indicate the direction of view. There is also a slideshow of this trip. ( )
↓ Scroll down here ↓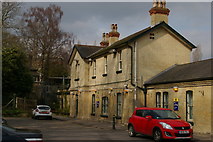 High Barnet station
The line to High Barnet was originally a Great Northern Railway branch and this... more

Barnet Hill and entrance to High Barnet station

Great North Road under the Northern Line, Barnet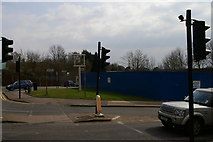 Site of the Old Red Lion pub, demolished March 2016
For the pub before its demolition, see [[1055995]].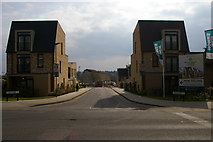 New houses on Hera Avenue, Barnet
Hera Avenue forms a new entrance to the older-established Dollis Valley Estate,... more

Flats on Barnet Lane, from Underhill

Twin waiting rooms, platforms 2/3, High Barnet station

Crocuses and containers, Barnet Hill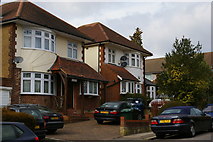 Inter-war houses, Manor Road, Barnet
The concrete sunburst on the left-hand house is a very typical 1930s motif.

Tall nineteenth-century building at the top end of Manor Road, Barnet

The North is Red
A red star stands over garages and the backs of houses on Wood Street, Barnet.

Almshouses, Wood Street, Chipping Barnet

Postbox at the junction of Manor Road and Wood Street, Chipping Barnet
The box can be seen face-on in [[1687514]].
All images © Christopher Hilton and available under a Creative Commons licence

.